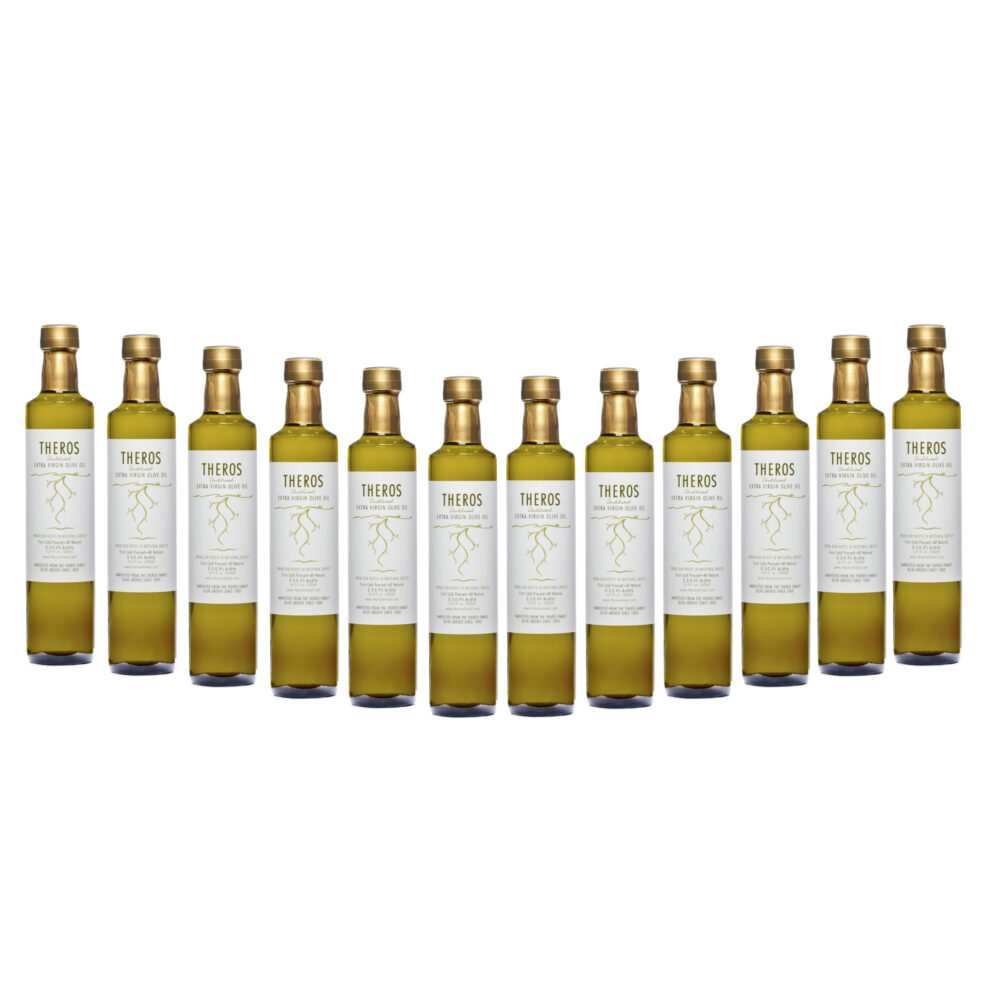 14 Jul

Olive Oil 101
Olive Oil 101
Greek olive oil varies widely in color, taste, and quality. The extra virgin olive oil (EVOO) made by Theros in Greece is renowned for its tantalizing aroma, appearance, and pure, unadulterated form.
This unique Greek olive oil, which hails from the Messinian area of Greece, gets its unique characteristics from the region's geographic characteristics and weather conditions. Here's how to enjoy your Theros olive oil.
What is EVOO?
Extra virgin olive oil is the purest and most unadulterated type of olive oil. It stands out for its low level of acidity. Most Greek EVOO has an acidity of 0.8%, but Theros olive oil has an even lower acidity of 0.4%.
This gives it a luscious, rich, and velvety taste and texture that works well with many types of food, ranging from lunch to dinner and even dessert! Theros olive oil (TEVOO) also has a rich, deep green color that further indicates its high level of quality.
Enjoying Olive Oil With Food
From incorporating into salad dressings or savory side dishes such as hummus or pesto, there are many ways to add Theros EVOO into your meal. Given its rich, complex, and distinctive taste, our EVOO can also be used as a standalone topping to finish off your raw, sauteed, or grilled vegetables.
It's also a nice addition to meat-based and fish-based dishes. EVOO even lends a rich quality to sweet dishes such as 0live oil cake and other desserts. EVOO's delicious taste also makes it easy to enjoy on its own as a dip for bread or served with bread and cheese.
Cooking With EVOO
There is some debate about whether EVOO is suitable for cooking. While it's true that exposing EVOO to high heat will eliminate some of its complex flavours, you can still certainly use it to make a meal. Frying, sauteeing, or otherwise using EVOO in your meal will still add a richness and distinctive taste to your dish.
Cooking with EVOO also provides important health benefits, and studies have shown that 0live oil is a healthier alternative for cooking compared to butter and other oils such as canola, sunflower seed, and vegetable oil.
Storage
When you bring home a bottle of beautiful Theros Greek 0live oil, the last thing you want is to have it go bad. Storing 0live oil correctly is important to maintain its flavour, color, and shelf life. The oil should be kept in a cool and dark place, away from sources of heat and direct sunlight. A pantry or kitchen cabinet that's away from heat-producing appliances is perfect.
From using Theros EVOO for cooking to enjoying it raw, it's easy to incorporate EVOO into your favourite dishes. Learning to cook with EVOO and storing it properly will make it even more enjoyable.